Hole in the Wall
by Ivana Marjanović and Marija Marjanović
+
Hole in the Wall
Young Olga and the Women's Antifascist Front of Yugoslavia
by Ivana and Marija Marjanović
Ivana Marjanović's work, created with her sister Marija Marjanović, is a reconstruction of the memory about their great-grandmother Olga and her friends, their secret involvement in the anti-fascist front of women in Yugoslavia during the Second World War. The process of discovering the story of their female ancestor Olga's clandestine anti-fascist activism had an empowering effect. Further, it is a feminist acknowledgment of our intuition that there was something politically strong in our family history although "we didn't really know it," since the patriarchy tends to put stories of women in the shadow of more "spectacular" revolutionary engagements of their husbands. The work-in-progress comic is based on true events and the memories of Olga's grandchildren, Ivana and Marija Marjanović's mother and aunts, namely Spomenka Nešovanović, Nada Marjanović and Olga Kocić. They were interviewed in 2019 by Marija and Ivana in Belgrade in winter and in Venice on the occasion of celebration of March 8th, International Women's Day, which was the most important holiday for Olga.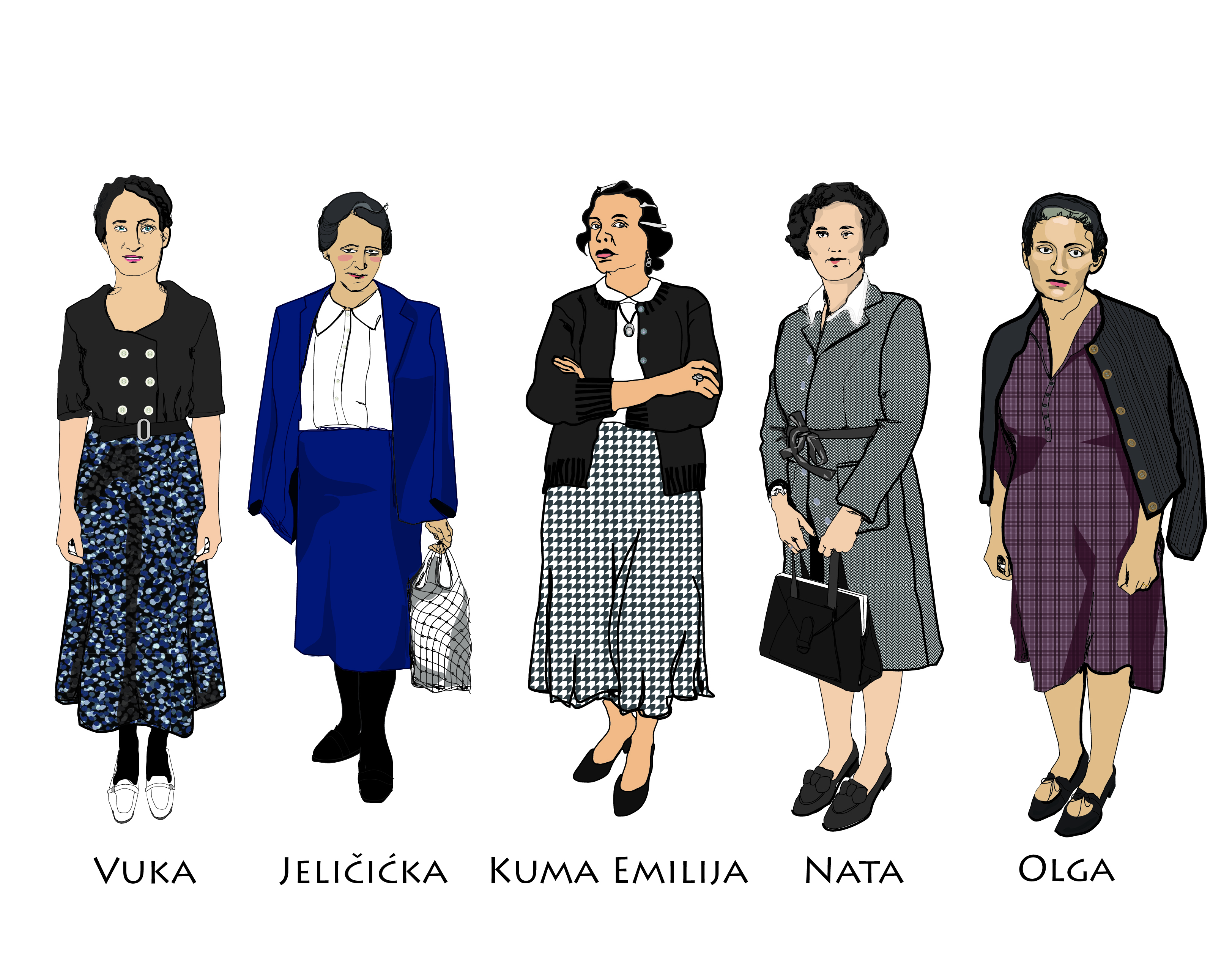 Olga (Pantelić) Ivković (1911-1981)
a housewife and the wife of the tailor Dušan, a.k.a. Petar "Petruška" Ivković, from Lika. Olga was orphaned early: Her father, a priest, and mother, a villager, both died young, and Olga was raised by her uncle in the village of Jabučje. Her uncle married her to Petar at the age of 14. Petar had been mobilized by the Austro-Hungarian army as a young man and sent to the front in Russia, where he deserted and crossed over to the communist side, with which he fought in the October Revolution. The much younger Olga met Petar when he, at the age of 35, was visiting his sister in Ub. They married in 1925. From Olga's dowry, they bought a house in Ub and opened Petar's tailor shop, but they lived a rather modest life. Olga was literate (her father, the priest, was also a teacher in the village, and so she finished several grades of elementary school). During the war, Olga and her friends illegally functioned as anti-fascists from within their households, which were occupied by members of the Nazi military and police leadership. Because of these activities, Olga almost lost her life. She and Petar were accused as sympathizers of the People's Liberation War, which they ultimately managed to refute. After the war, Olga was an activist of the AFŽ. She fiercely advocated for the education of women and children and the reconstruction of the country.
"Our grandmother was a very determined, smart and wise woman! She never asserted her opinion on you; she never reacted impetuously. She was very wise. The other women would come to her for advice. She never allowed anyone to oppress her in any way. Her children, her husband, her extended family – everyone respected her." – Her granddaughters
Vuka Živanović
Olga's young neighbour. She was a clerk, working in the municipality of Ub. She was a Skojevka, a member of the League of Communist Youth of Yugoslavia. She had a husband, named Despot, and a son who went on to the military academy after the war, eventually serving as a member of the elite guard of the Yugoslav army.
Jeličićka
a merchant woman. She and her husband were engaged in the purchase and resale of cattle and grains. An extremely honest family, they helped many unfortunate people, seeking no compensation for their acts of goodwill. The villagers respected Jeličićka and her husband very much.
Kuma* Emilija Ivanović
a waxworker's wife, the wife of Mladen the Licidermaker. They had a candle store in their house and also made Licider hearts and toys. Emilija was very educated: She spoke and read French perfectly, and had a large library at home. She was deeply involved in the illegal anti-fascist movement. Mladen beat her for her illegal political activities, but she continued to contribute to operations until the end of the war.
*Kum /kuma - Best man or maid of honor at one's wedding, or a godmother or father at baptism. This relationship - of kumovi, almost like family, in many cases -- extends to the entire immediate families of each kum or kuma.
Nata Vlajnić
a trader's wife, a well-known member of society, and housewife. Her husband, Branko Vlajnić, was a successful trader, who had his own shop, a general store. People respected and loved him very much. Branko helped all of Ub, giving interest-free, non-predatory loans to those who needed them.
AFŽ (Antifašistički front žena) - The Women's Antifascist Front of Yugoslavia was founded in 1942 in Bosanski Petrovac, in what is today Bosnia-Herzegovina. It was the largest mass movement of women within the territory of Yugoslavia. Mobilizing millions of women during the World War II, the AFŽ made a key contribution to the fight against fascism and for the revolution, including the battle for the emancipation and equality of women, and for an equal position in society. The leftist feminist movement and women's organizations connected to the (illegal) Communist Party of Yugoslavia in the pre-war period formed the basis for the successful organization of women during World War II.
Unkown Heroines
There were many women from the lower classes in the cities, as well as in the villages, who were involved in the anti-fascist struggle. There is too little information about them. But there were many of them, great and courageous.
***
Text, concept and research: Ivana Marjanović
Drawing and research: Marija Marjanović
Consultations for the text: Vida Knežević, Milovan Pisarri
Consultations for the story and images: Daniel Jarosch
Technical drawing support: Jelena Stojanović Ilić
The lecture for Serbo-Croatian: Jovana Kocić
Translation into English: Vladimir Vukanović
Proof-editor for English translation: Carla Vukanović