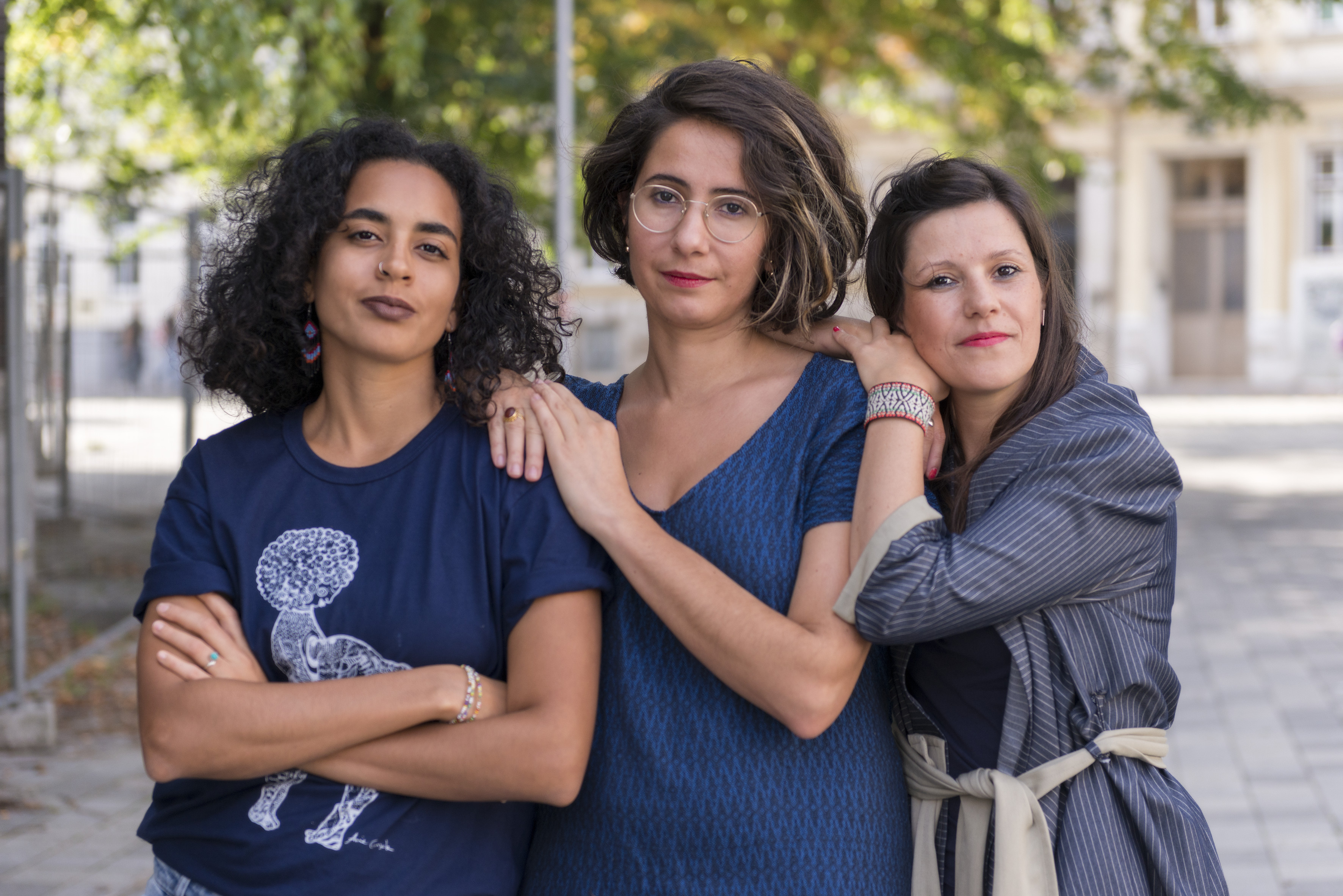 Foto: © Ana Paula Franco
migrazine.at ist das mehrsprachiges Online Magazin von Migrantinnen für alle, herausgegeben von der autonomen Migrantinnen-Selbstorganisation maiz in Linz. 2009 ging migrazine.at erstmals online, um kritische migrantische Stimmen in der medialen Öffentlichkeit hörbarer zu machen und gegen die klischeehafte Darstellung von Migrantinnen aufzutreten. migrazine.at ist: selbstorganisiertes Partizipieren an der Medienlandschaft, Einmischen in den herrschenden Diskurs, Demokratisierung der Information. Unsere Perspektive ist feministisch und antirassistisch, mit hoher Affinität zu kulturellen Themen. migrazine.at will keine objektive Berichterstattung leisten, sondern ist Plattform für unterrepräsentierte Stimmen — und somit parteilich.
Bei migrazine.at sprechen Migrantinnen nicht als "Quoten-Einwanderinnen", sondern sind am gesamten Entstehungsprozess des Mediums — von der Gestaltung der Website bis hin zur redaktionellen Betreuung der Beiträge — beteiligt. Die Inhalt von migrazine.at geht nicht nur um migrationsspezifische Themen — jedoch ist unser Blick immer von unserer Erfahrung und gesellschaftlichen Positionierung als Migrantinnen geprägt. Die Kategorie "Migrantin" verstehen wir dabei als politische Identität, d.h. als "Bezeichnung eines oppositionellen Standorts" und im Sinne einer "feministischen und antirassistischen Parteilichkeit" (FeMigra).
migrazine.at erscheint zweimal im Jahr zu zwei ausgewählten Themenschwerpunkten mit einem Mix aus Reportagen, Analysen, Interviews und Künstlerische Arbeite. Neben zahlreichen (teils ehrenamtlichen) Mitarbeiterinnen und Autorinnen gibt es ein kleines bezahltes Redaktionsteam, bestehend aus Migrantinnen der ersten und zweiten Generation. Seit 2019, Ezgi Erol, Lia Kastiyo-Spinósa und Ivana Marjanović.
migrazine.at es una revista online multilingüe de mujeres migrantes para todes, publicada por la organización autónoma maiz de Linz, Austria. En 2009, migrazine.at entró en línea por primera vez para hacer que las voces de les migrantes fueran escuchadas en los medios y para contrarrestar la representación cliché de las mujeres migrantes. migrazine.at es: participación autoorganizada en el panorama de los medios, intromisión en el discurso predominante, democratización de la información. Nuestra perspectiva es feminista y antirracista, con una gran afinidad con los temas culturales. migrazine.at no busca proporcionar informes objetivos, es una plataforma para voces no representadas y, por lo tanto, parcial.
En migrazine.at, lxs migrantes no hablamos desde la perspectiva de "cuota", sino que estamos involucrades en todo el proceso de creación del medio, desde el diseño del sitio web hasta el apoyo editorial de las contribuciones. migrazine.at no se trata solo de temas específicos de la migración, sino que nuestra opinión siempre está determinada por nuestra experiencia y posicionamiento social como mujeres migrantes. La categoría "migrante" se entiende como identidad política, como "designación de un lugar de oposición" y en el sentido de un "partidismo feminista y antirracista" (FeMigra).
migrazine.at aparece semestralmente sobre dos temas principales seleccionados con una combinación de informes, análisis, entrevistas y obras artísticas. Además de un número amplio de colaboradorxs y autorxs, hay un pequeño equipo editorial remunerado, formado por migrantes de primera y segunda generación. Desde 2019 el grupo permanente está integrado por Ezgi Erol, Lia Kastiyo-Spinósa e Ivana Marjanović.
migrazine.at is a multilingual online magazine by migrant women* for everyone, published by the autonomous migrant women's self-organization maiz in Linz. In 2009 migrazine.at went online for the first time to make critical migrant voices in the media public and more audible, as well as, to stand up against the clichéd depiction of migrant women. migrazine.at is: self-organized participants in the media landscape, interference in the dominant discourse, the democratization of information. Our perspective is feminist and anti-racist, with a high affinity for cultural topics. migrazine.at does not want to provide objective reporting but is a platform for underrepresented voices - and therefore partisan.
At migrazine.at, migrant women do not speak as "quota immigrants", but are involved in the entire process of creating the medium - from the design of the website to the editorial supervision of the contributions. The content of migrazine.at is not only about migration-specific topics - but our view is always shaped by our experience and social positioning as migrant women. We understand the category "migrant" as a political identity, i.e. as "designation of an oppositional location" and in the sense of "feminist and anti-racist partisanship" (FeMigra).
migrazine.at is published twice a year on two selected topics with a mix of reports, analyses, interviews, and artistic works. In addition to numerous (partly voluntary) contributors and authors, there is a small paid editorial team consisting of first and second-generation migrant women. Since 2019, the team is Ezgi Erol, Lia Kastiyo-Spinósa, and Ivana Marjanović.
Ezgi Erol is a sociologist, artist, and curator, with master's degrees in sociology from the University of Vienna as well as in conceptual art and video and video installation from the Academy of Fine Arts Vienna. Historical research, various levels of remembrance, economical arenas of global war, landscape, Diaspora, exile, and migration are her primary areas of interest. 2018, she curated the exhibition Krieg kuratieren (Curating war), which dealt with the practice of exhibiting and organizing of wars as well as the question of artistic perspectives in the politics of memory. At Kunstraum Innsbruck Erol presents the second installment of this exhibition at a time when she is also writing her dissertation on the subject of art and the arms industry. She was on the editorial board of the art magazine Bildpunkt and is a board member of IG Bildende Kunst.
Lia Kastiyo-Spinósa was born by the Caribbean Sea, where Tainos and West African descendants have been resisting. At a young age, she migrated to the South of the continent and there she found out what it meant to be the "other". In 2016 at the University of Buenos Aires she established publishing and layout design as her main profession. Since then, during her free and mostly unpaid time, she develops herself as an artist. Her main media of production are photography, collage, and performance. Since 2018 she lives in Vienna while studying at the Academy of Fine Arts. She has also been engaged with activist collectives and projects like the Women's Collective at The University of Vienna Student Union (Frauen*Referat) and the house LGTBIQ+ Türkis Rosa Lila Villa. She says she only survives life in Europe through dancing, migrant community love, and plants. And that she is a strong believer of the moon, the sun, and the bees. 
Dr. Ivana Marjanović is a curator and researcher. Born in Belgrade, Yugoslavia; lived in Vienna from 2006 to 2018, living in Innsbruck since 2019, works as artistic and managing director of KUNSTRAUM INNSBRUCK. She graduated in Art History at the Faculty of Philosophy, University of Belgrade, in 2005; in 2017, she received a Ph.D. of Philosophy from the Department for Art and Cultural Studies, Academy of Fine Arts Vienna. Between 2016 and 2018 she worked with Nataša Mackuljak as artistic and managing director of the WIENWOCHE festival in Vienna; in 2006, she founded the Kontekst Gallery in Belgrade with Vida Knežević, where she worked as a curator until 2009.
Dilan Şengül studied Spatial Planning at the Technical University in Vienna, as well as Acting at the diverCITYLAB Academy. As an actress, she worked in various positions and initiated her own projects. As part of the WIENWOCHE, she worked as a co-organizer, producer, and artistic assistant on various projects. She has been working in the Brunnenpassage since 2015. In 2016/2017 she received the scholarship from kültüř gemma!. As a project employee in the Brunnenpassage, she works at the intersection between urban sociology and cultural work. Her focus is on informal participation processes and the mediation of them through artistic methods and practices. At the moment she is the Social Media Manager of MIGRAZINE.
Frühere Redaktionsmitglieder / Integrantes anteriores / Older members:     
Cristiane Tasinato     (2006 - 2018)
Vina Yun                    (2009 - 2015)
Radostina Patulova   (2009 - 2015)
Assimina Gouma       (2012 - 2018)
Luzenir Caixeta         (2016 - 2018)
Gergana Mineva        (2017)
Silvia Schröcker        (Januar - September 2017)
Tyna Fritschy            (2017, Ausgabe 2017/1)
Hannah Goebel
Michaela Hafner (Lektorat)
Elena Lobera (Bildbearbeitung)