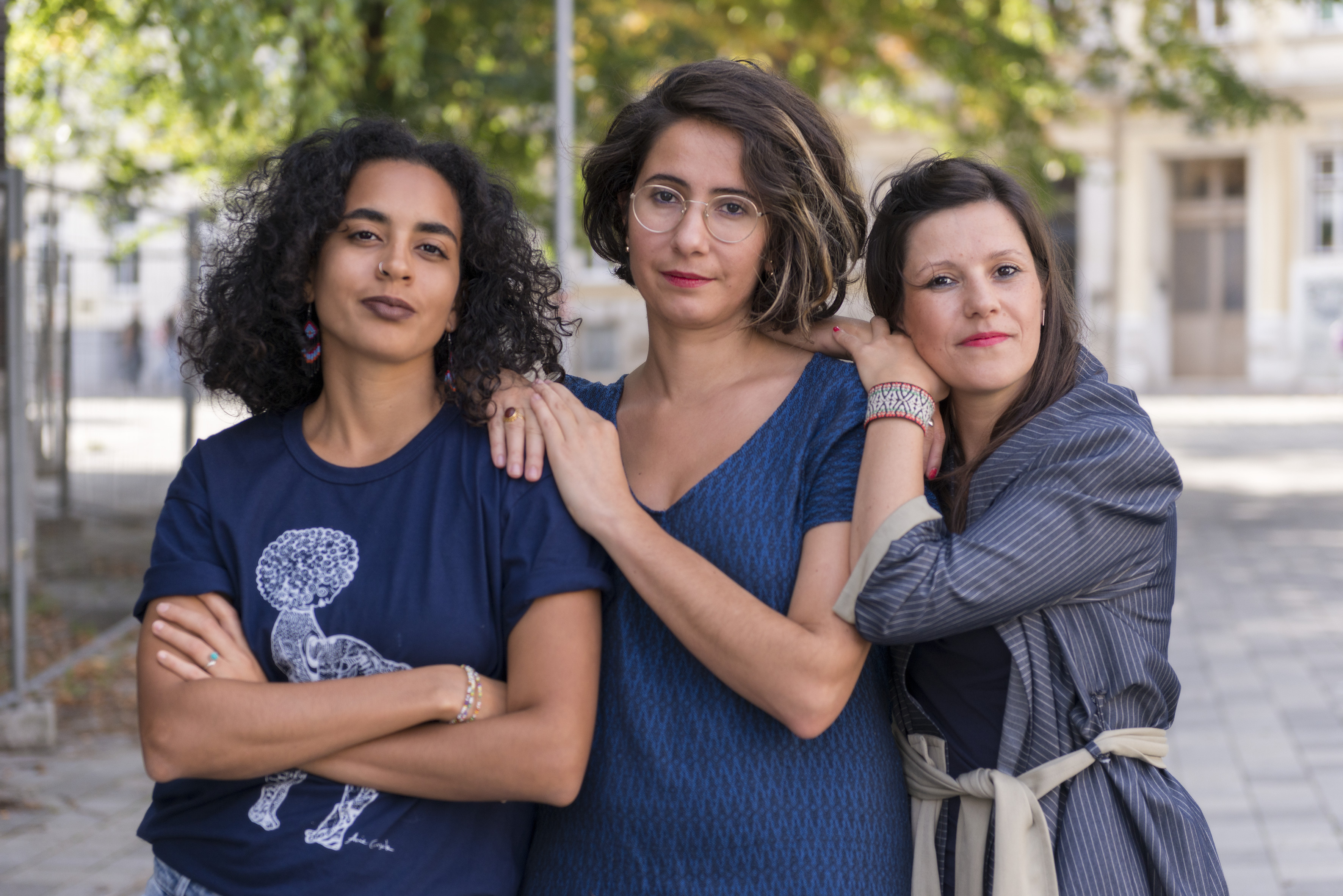 Foto: © Ana Paula Franco
DE
Migrazine - Online Magazin von Migrantinnen für alle ist ein mehrsprachiges Magazin und wird u.a. von maiz (Autonomes Zentrum von & für Migrantinnen) in Linz, Österreich herausgegeben. Zum ersten Mal ging Migrazine 2009 online und ist aus dem Begehren entstanden, um kritische migrantische Stimmen in der medialen Öffentlichkeit hörbarer zu machen und gegen die klischeehafte Darstellung von Migrant*innen aufzutreten. Seitdem partizipiert Migrazine selbstorganisiert an der Medienlandschaft, mischt sich in den herrschenden Diskurs ein. Migrazine kämpft - seit seiner Gründung bis heute - vor allem um die Entwicklung der Rahmenbedingungen, die zur Partizipation und Artikulation von Migrant*innen als Protagonist*innen und Akteure*innen in den Medien beiträgt. 
Die Inhalte, die in Migrazine behandelt werden, sind vielfältig, und oft sind nicht nur mit Migration verbundenen Themen im Zentrum. Jedoch ist der Blick immer von der Erfahrung und gesellschaftlichen Positionierung als Migrant*innen geprägt. Die Kategorie "Migrantin" versteht Migrazine dabei als politische Identität, d.h. als "Bezeichnung eines oppositionellen Standorts" und im Sinne einer "feministischen und antirassistischen Parteilichkeit" (FeMigra).
Migrazine erscheint zweimal im Jahr und beinhaltet verschiedene Formate u.a. Reportagen, Essays, Analysen, Interviews und künstlerische Arbeiten. Unter der Rubrik "Fokus" wird der jeweilige Schwerpunkt der Ausgabe anhand von Texten eingeladener Autor*innen behandelt. Die andere Rubrik ist "Crossover", hier geht es vielmehr um eine offene Plattform, in der verschiedene Inhalte zusammenkommen. 
Neben zahlreichen (teils ehrenamtlichen) Mitarbeiter*innen und Autor*innen gibt es ein kleines bezahltes Redaktionsteam, bestehend aus Migrant*innen. Seit 2019 sind Ezgi Erol, Lia Kastiyo-Spinósa und Ivana Marjanović in der Redaktion.
Migrazine wurde 2014 mit dem MigAward in der Kategorie Medien ausgezeichnet. Aktuelle Herausgeber*innen von Migrazine sind maiz – Autonomes Zentrum von und für Migrantinnen in Linz, das kollektiv kritische Bildungs-, Beratungs- und Kulturarbeit von und für Migrantinnen in Linz und teneke - Verein zur Förderung von Kunst, Kultur, Wissenschaft und Kommunikation in Wien.
TEAM
Ezgi Erol is an artist, curator and researcher, with master's degrees in sociology from the University of Vienna and University of Mugla (TR) as well as in conceptual art and video and video installation from the Academy of Fine Arts Vienna. Historical research, various levels of remembrance, economical arenas of global war, landscape, Diaspora, exile and migration are her primary areas of interest. She was on the editorial board of the art magazine Bildpunkt and a board member of IG Bildende Kunst. Currently, she researches the subject of contemporary art world and the arms industry and a lecturer at the Academy of Fine Arts Vienna.
Lia Kastiyo-Spinósa was born by the Caribbean Sea, where Tainos and West African descendants have been resisting. At a young age, she migrated to the South of the continent and there she found out what it meant to be the "other". In 2016 at the University of Buenos Aires she established publishing and layout design as her main profession. Since then, during her free and mostly unpaid time, she develops herself as an artist. Her main media of production are photography, collage, and performance. Since 2018 she lives in Vienna while studying at the Academy of Fine Arts. She has also been engaged with activist collectives and projects like the Women's Collective at The University of Vienna Student Union (Frauen*Referat) and the house LGTBIQ+ Türkis Rosa Lila Villa. 
Dr. Ivana Marjanović is a curator and researcher. Born in Belgrade, Yugoslavia; lived in Vienna from 2006 to 2018, living in Innsbruck since 2019, works as artistic and managing director of KUNSTRAUM INNSBRUCK. She graduated in Art History at the Faculty of Philosophy, University of Belgrade, in 2005; in 2017, she received a Ph.D. of Philosophy from the Department for Art and Cultural Studies, Academy of Fine Arts Vienna. Between 2016 and 2018 she worked with Nataša Mackuljak as artistic and managing director of the WIENWOCHE festival in Vienna; in 2006, she founded the Kontekst Gallery in Belgrade with Vida Knežević, where she worked as a curator until 2009.
Dilan Şengül studied Spatial Planning at the Technical University in Vienna, as well as Acting at the diverCITYLAB Academy. As an actress, she worked in various positions and initiated her own projects. As part of the WIENWOCHE, she worked as a co-organizer, producer, and artistic assistant on various projects. She has been working in the Brunnenpassage since 2015. In 2016/2017 she received the scholarship from kültüř gemma!. As a project employee in the Brunnenpassage, she works at the intersection between urban sociology and cultural work. Her focus is on informal participation processes and the mediation of them through artistic methods and practices. At the moment she is the Social Media Manager of MIGRAZINE.
Frühere Redaktionsmitglieder / Integrantes anteriores / Older members:     
Cristiane Tasinato     (2006 - 2018)
Vina Yun                    (2009 - 2015)
Radostina Patulova   (2009 - 2015)
Assimina Gouma       (2012 - 2018)
Luzenir Caixeta         (2016 - 2018)
Gergana Mineva        (2017)
Silvia Schröcker        (Januar - September 2017)
Tyna Fritschy            (2017, Ausgabe 2017/1)
Hannah Goebel
Michaela Hafner (Lektorat)
Elena Lobera (Bildbearbeitung)